Month Seven:
Still swaddling.....still waking every 2 hours! This month she learned how to roll from her back to her tummy. So, now she can roll all over the place!! She also figured out how to put the paci back in her mouth all by herself. What an achievement!! I didn't have to run in her room in the middle of the night to do that!! :)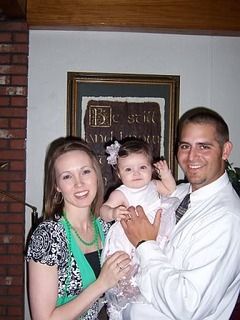 Month Eight:
One of my good friends from my mom's group loaned me a book by Kim West (aka the Sleep Lady). It was the BEST book! I'm not into CIO (cry-it-out) and absolutely did not want to try it. So, when my friend mentioned how well this book worked for her I knew I had to try it. It's a "no cry sleep solution", which is what I was looking for. My friend's little girl (who's a month older than Emercyn) also woke up quite often at night, and was still being swaddled. After one week of following the book's orders, Emercyn was no longer swaddled. She also SLEPT ALL NIGHT LONG!! Whoo hoo!!! Jason and I were overjoyed!! During this month, we also started her on meats. She loves chicken! She also said her second word this month...."dada"!! It just made Jason's day the first time he heard it!! :) This was my last month to keep Braxton. I know Emercyn wondered where he went, and I know she misses him! She needs a brother.....someday!
Month Nine:
Sleeping is perfect! Emercyn learned to get herself from a lying position to a sitting position this month. She then learned to army crawl! She never was very quick at it though. She much preferred to just roll everywhere. She sure was quick at that!! She's still nursing every 3 hours. She also has learned to say "uh-oh"! It's so adorable....she'll intentionally drop something just to say it! Emercyn also learned to clap!! She loves to play pat-a-cake!